The Greener and Smarter Alternative to high fuel costs
Propane Autogas is a Cleaner, Greener and smarter alternative to Gasoline
Vehicle conversions are done at our Gladwin Location.
We Service and Install systems from ICOM, PRINS all of which are EPA Certified ( does not affect Warranty)
These systems run on a duel fuel format.  Either  Propane and Gasoline can be used at a touch of a button.
Trained and Certified to work on RAUSCH and S2G FREIGHTLINER

Installation costs vary, Call our Gladwin Location at
989-426-5000
to get a quote.  Vehicle brand, year and engine size will be required.
Many state associations, grants and state tax incentives are also available to convert your vehicle to propane.
Stanford LP Gas complies with the Autogas Propane for Vehicles Act.
Ready to convert your fleet to propane autogas? Need people you can trust to service your propane-fueled vehicles?
THE CONVERSION CENTER is ready to meet all your propane autogas service needs!
Our ASE Certified Master Automotive Technician, Kyle Roberts, is certified by ICOM of North America and the PRINS Systems by Alliance Auto Gas. He is also trained to service S2G Freightliners.
That means you can call on us with complete confidence for:

New system installations/conversions
Adjustments, service, and maintenance
The right answers to your autogas questions
Plus, the systems we install are EPA certified, which means any warranties on your vehicle will remain in effect, even after conversion.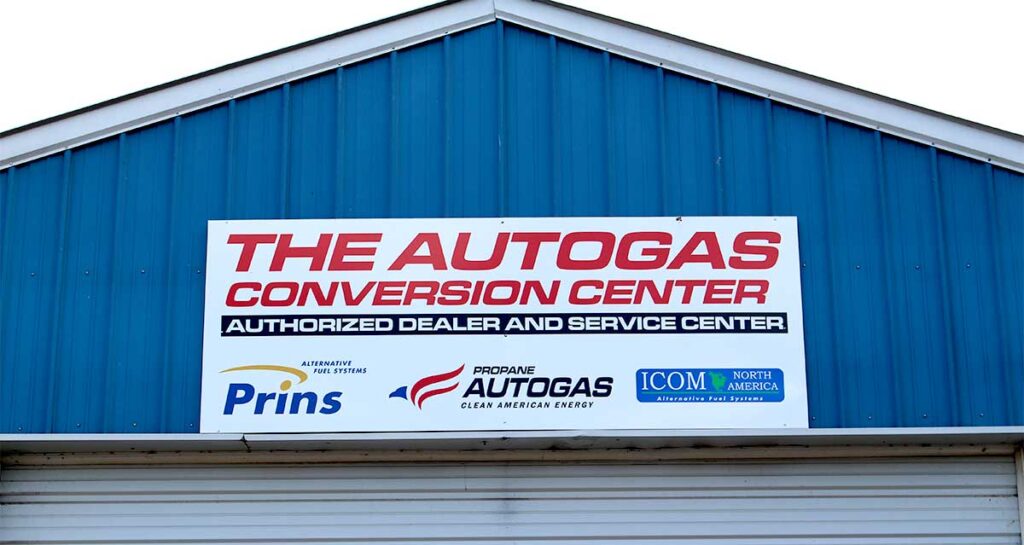 To Learn More, Call Us Today!
The Conversion Center
989-426-5000
Gladwin, Michigan
The Greener and Smarter Alternative to High Fuel Costs
Choosing Propane Reduces Fuel Costs
The single biggest impact a fleet manager can make on fuel cost savings is to choose propane autogas

Propane autogas costs significantly less per gallon than gasoline and diesel

Cleaner burning fuels like propane can result in extended service intervals

Electric vehicles are expensive and have a very low distance range

Flex–fuel (E-85) provides no cost savings
Refilling your Fleet or Vehicle
Have a tank installed at your location, with autogas pump

Go to any propane dealer

Many propane Autogas dispensers are available throughout the state. Both Stanford Locations are set up for autogas as well as the intersection of m-20 and m-30. We have a self serve  station for your convenience.  Call Midland location for an account setup.
Propane is Better for the Environment
Propane is the best solution to meet sustainability goals, and can reduce emissions by up to 50%
Propane can reduce C02 (greenhouse gases) by up to 20%
Converting to Propane makes Sense
Similar mpg, equal power, and equal torque to gasoline

2 systems to choose from: ICOM liquid injection and Prins vapor injection

Both systems are dual-fuel, so you can use propane or gasoline at your choice

90% of propane supplies are produced in the USA, reducing our dependence on foreign supply
Converting your Fleet or Vehicle to Propane Autogas
Substantial fuel cost savings. Average from .80 to 1.00 per gallon


 

Savings on extended service intervals and increase engine life




 

Reduced emissions, Environmentally friendly




 

Reduce dependence on foreign oil,  Propane from Natural Gas is produced in USA



Stanford's Propane Gas refills Cylinders at both the Gladwin and Midland locations
Midland Office:   (989)835-4754
Gladwin Office:   (989)426-2926
Stanfords Propane Gas LLC and its employees take great pride in being able to deliver very competitively priced residential, recreational, auto propane, and temporary heat as well as exceptional customer service. Satisfied customers are the foundation upon which Stanfords has built its propane business.
Click the link below to view our service locations