Most Stanford's Propane Gas customers are scheduled for automatic propane delivery. We encourage this option because it decreases the chance of running out of propane.
Our automatic fill system is based on a degree day, which means that if the average temperature for the day is below 65 degrees, most customers will require some heat to be used in their homes. Using the degree day system helps us calculate how much propane you will use for each degree day, and allows us to know when to fill your tank. Should an auto fill customer run out of propane, we will fill the tank immediately and credit the account with 100 gallons of propane at no charge.*
*Customer's account must be current.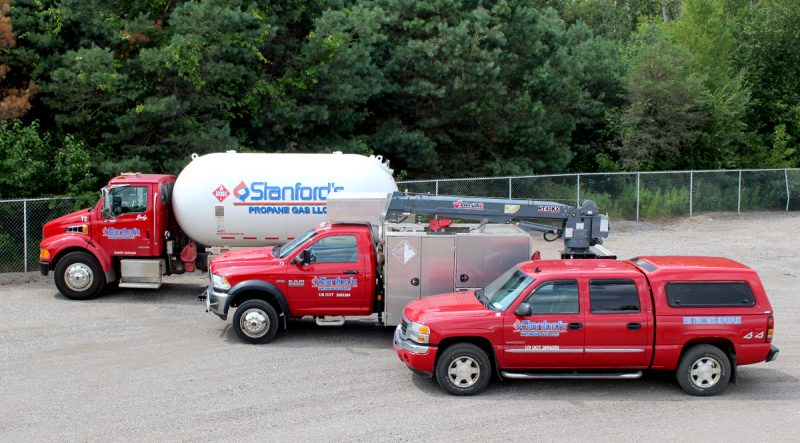 With the Will Call propane delivery option, it is very important that the customer keeps an eye on the level of propane in the tank. If you run out of fuel, a leak test will have to be conducted on your gas system before we can fill your tank, and your account will incur an additional service charge. Please allow five working days for the delivery.
If customers supplement their heating fuel with other means, such as wood or corn stoves, we must be notified so we can place the account on a call-as-needed basis. Customers must reorder fuel when their tank reaches 25%.
If you would like your fuel delivered at a particular time of year, such as every November and April, we can program our system to accommodate that. This option is especially useful for our seasonal customers.
Your gas gauge is located under the dome of your tank, with easy-to-read, bold black numbers around it. The pointer inside the gauge will rest on a number that represents the percentage of propane left in your tank. Due to the physical properties of propane, your tank is considered full at 80%, allowing the propane to expand inside the tank. If your tank falls below 30%, please let us know. The chart below will help you determine how many gallons of propane are in your tank at the given percentage.